The personal injury law firm of Sickels, Frei and Mims today announced that partner Charles Sickels is retiring from the firm at the end of 2019. He has moved to Richmond where he will continue serving selected business clients.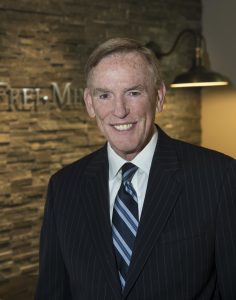 The firm also announced that Gary B. Mims will assume the role of managing partner.
In a career that has spanned 45 years, Sickels helped hundreds of people succeed in personal injury cases. Over the years, he also developed special expertise in business law. He has nurtured dozens of small and large business clients to plan and structure their organizations, as well as handle contracts, employment disputes, and commercial transactions.  In addition, he served as the registered agent for many organizations doing business in Virginia.
Among Sickels' many career achievements is a landmark case that ultimately redefined "not to compete" covenants in Virginia. His case, Home Paramount Pest Control v. Rector, is still recognized as a leading decision on post-employment restrictions in Virginia.
Sickels has been a consistent contributor to the legal profession, serving on the Board of Governors for the Virginia Trial Lawyers Association, the Boyd Graves Conference, and actively participating in the bar associations for Fairfax, Virginia and the District of Columbia.  He has been recognized as a Best Lawyer in America and the firm bearing his name was named a Best Law Firm by US News, since the inception of the rankings.
Originally from Michigan, Sickels served in the U.S. Army before attending law school at American University, where he earned his J.D. with honors.  He then worked as a legislative assistant to U.S. Senator Robert Griffin for several years before moving into private practice.
Sickels has also been involved in many community groups and projects, serving as a volunteer with the Fairfax Nursing Center, as a legal advisor and board member of the alliance for the Physically Disabled, and a group leader with McLean Bible Church.  He also previously chaired the Board of Zoning Appeals for the town of Herndon.
New contact information for Chuck Sickels: 616 N. 35th Street, Richmond, VA 23223. Phone: 703-472-7128.