We're hiring!
Frei, Mims and Perushek, a top-rated, boutique law firm, is seeking an associate to join our team of experienced personal injury lawyers. The successful candida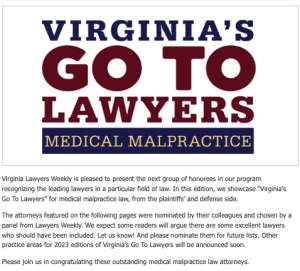 te must have the drive and talent to become a top-notch trial lawyer, as well as courtroom presence and exceptional research and writing skills. A keen interest in helping those injured through medical malpractice, defective products, and catastrophic events will make you a strong applicant. We offer a relaxed work environment with generous health, leave and retirement benefits. Join our firm and you will fast-track your career by working with some of Virginia's best trial lawyers, in a first-class office within walking distance of the Fairfax Courts.
Responsibilities
Your level of experience will determine your responsibilities and compensation but the successful candidate will be involved in all aspects of case development and trial preparation. You will participate in case filings, research, depositions, pre-trial motions, client relations, and case intake. The goal is to have you work with our partners to take on full case management, over time.
Apply: Please forward your letter and resume to Victoria Lisi, victoria.lisi@freimims.com