The personal injury law firm of Sickels, Frei and Mims today announced that partner Charles Sickels is retiring from the firm at the end of 2019. He has moved to Richmond where he will continue serving selected business clients.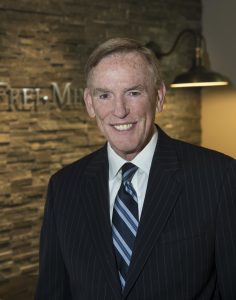 The firm also announced that Gary B. Mims will assume the role of managing partner.
In a career that has spanned 45 years, Sickels helped hundreds of people succeed in personal injury cases. Over the years, he also developed special expertise in business law. He has nurtured dozens of small and large business clients to plan and structure their organizations, as well as handle contracts, employment disputes, and commercial transactions.  In addition, he served as the registered agent for many organizations doing business in Virginia.
Among Sickels' many career achievements is a landmark case that ultimately redefined "not to compete" covenants in Virginia. His case, Home Paramount Pest Control v. Rector, is still recognized as a leading decision on post-employment restrictions in Virginia.