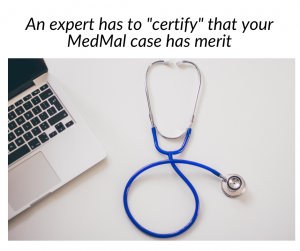 You believe you are the victim of medical negligence and you are, understandably, anxious to pursue your case. You've retained a medical malpractice attorney, obtained your medical records and now you want your suit filed ASAP. Before the case can be filed, however, under Virginia medical malpractice law an expert witness must first review the case and "certify" that your case has merit.
What's the process for "expert certification?" How long does it take?
Medical malpractice is a very complicated area of law, involving legal definitions for "standard of care," "negligence," "damages," and more. If you've retained an experienced medical malpractice attorney, you've already shortened the amount of time it will take to for your case to be "certified." At Frei, Mims and Perushek, when our attorneys assess your case, they apply more than 40 years of trial experience and significant expertise in the medicine to advise whether your case will be seen as one with merit. The next step is for the firm to search and identify a leading medical expert to certify your case. "We've handled hundreds of cases of medical negligence, surgical mistakes, anesthesia errors, and failures to diagnose cancer," explains partner Gary B. Mims. "Sad as that is, those cases have created for us a powerful, in-house knowledge bank and relationships with some of the leading medical experts in the country."
What qualifies someone as an expert?
The certifying expert is the one who will testify that the defendant failed to act as a reasonably prudent physician would have acted under similar circumstances. This expert must have had an active clinical practice within one year of the date of negligence, in the same or related field of medicine. What does that mean? It means that, for example, an orthopedic surgeon can testify against a podiatrist as long as the orthopedic surgeon's practice covers the ankle or foot. "Choosing an expert for your case is a critical decision because that person may well be the one to testify in court. He or she has to be able to explain complicated medical issues to a jury," said Mims. "We invest considerable time and energy in identifying not just an expert, but a highly-experienced medical professional, scholar, or educator who is an effective communicator."
In medical malpractice cases, it's common to have more than one expert: the certifying expert on the standard of care as well as an expert on the injury  or "damages." The fees for expert testimony vary and usually depend upon the years of training. For example, a neurosurgeon will charge a higher fee than a family practitioner.
Expert terms you need to know.
Complaint: The case is formally started when the plaintiff (the injured person) files a "complaint." The complaint identifies the defendant (the wrongdoer), provides facts about what happened, and explains why the defendant was negligent.
Service: The defendant does not, of course, know that the complaint was filed, so the plaintiff is required to "serve" the complaint on the defendant. Service determines when the defendant has to respond to the lawsuit.
Certifying expert: In medical malpractice cases, when the plaintiff requests service on the defendant, he or she  (plaintiff's attorney) certifies that an expert witness has reviewed the case and holds the opinion an expert must certify that your case has merit you can serve the complaint. .  See Va. Code § 8.01-20.1.  In other words, an expert must certify that your case has merit before you can serve the complaint. This is the certifying expert requirement.