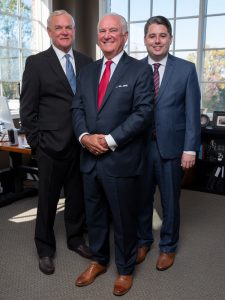 It is with great pleasure that we announce an exciting new chapter for our firm. Effective, January 1, 2020, Sickels, Frei and Mims becomes Frei, Mims and Perushek.
This change marks the addition of Matthew Perushek as partner and the retirement from the firm of our friend and partner Charles Sickels, after 45 years in law. Gary Brooks Mims is the new managing partner of the firm.
As a team of personal injury trial lawyers, we are entering 2020 with both a renewed determination and passion to achieve just results for our clients. We will continue to serve clients in our key practice areas of medical malpractice, serious accidents, products liability, wrongful death and all other areas of personal injury law. There is no greater reward in our practice than to fight for our clients' rights and to win just compensation.