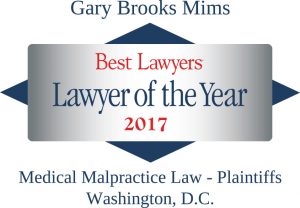 Fairfax, VA, United States — Monday, August 15, 2016 — Sickels, Frei and Mims, L.L.P. attorney Gary Brooks Mims was recently selected as 2017 "Lawyer of the Year" for Medical Malpractice Law in the Washington, D. C. metropolitan region.
Only a single lawyer in each practice area and designated metropolitan area is honored as the "Lawyer of the Year," making this accolade particularly significant. These lawyers are selected based on particularly impressive voting averages received during the peer-review assessments.
Receiving this designation reflects the high level of respect a lawyer has earned among other leading lawyers in the same communities and the same practice areas for their abilities, their professionalism, and their integrity.
In addition to the Lawyer of the Year award, Gary Brooks Mims was also listed in the 2017 Best Lawyers in America for Personal Injury Litigation – Plaintiffs. Since it was first published in 1983, Best Lawyers has become universally regarded as the definitive guide to legal excellence.
Gary B. Mims has practiced law since 1980. He was a defense litigator for 20 years, defending a heavy schedule of trials involving automobile, trucking, train and other transportation accidents and a wide variety of personal injury cases. He developed a special interest and significant experience in medical malpractice, first from the defense side, and since 1999, as a plaintiff's attorney.
Gary has successfully represented clients in complicated medical cases involving, among other things, failure to diagnose cancer, defective joint prostheses, brain injury, anesthesia-related injuries and weight-loss drugs. He has also successfully represented clients suffering injury and death by a massive train wreck, defective golf course design, and a defective storm retention pond, among others.